Digital Public Participation Tools to Drive Greater Project Outcomes
Social Pinpoint is a leading digital engagement tool that enables Community Planning Professionals to build hybrid participation strategies that drive greater reach, diversity, consultation and collaboration on a wide range of projects.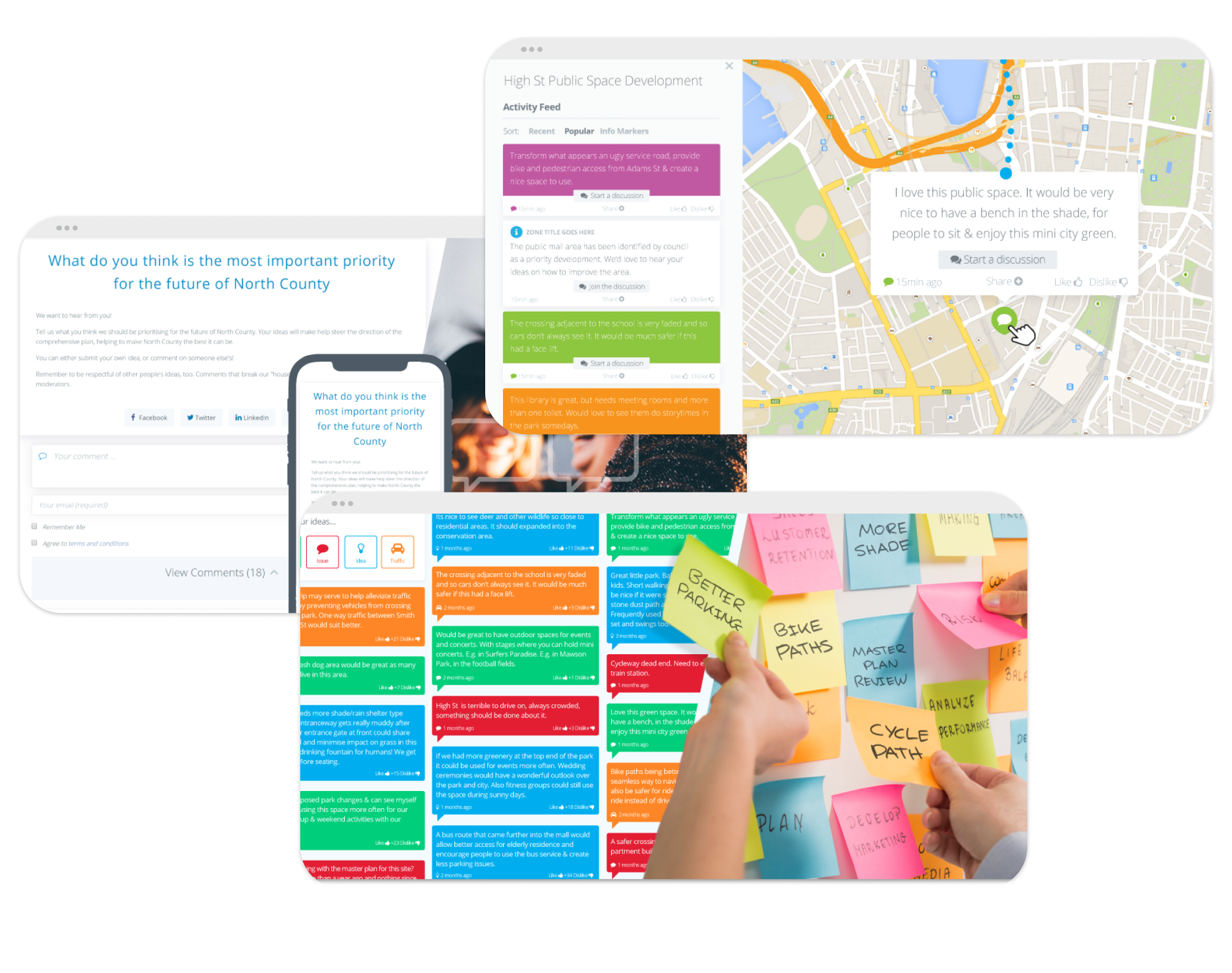 Built to support your entire
project lifecycle
Social Pinpoint's extensive range of digital tools enables our clients in government, private sector and NFP organizations to drive successful project outcomes by engaging the community and collecting rich data that can efficiently be turned into meaningful insights and reports.
Supporting hybrid public participation strategies, Social Pinpoint provides communities with the ability to engage and collaborate, anytime from anywhere.
YOUR FULL ENGAGEMENT SUITE
Our all-in-one community engagement platform hosts a complete suite of customizable tools and features to suit your project & audience.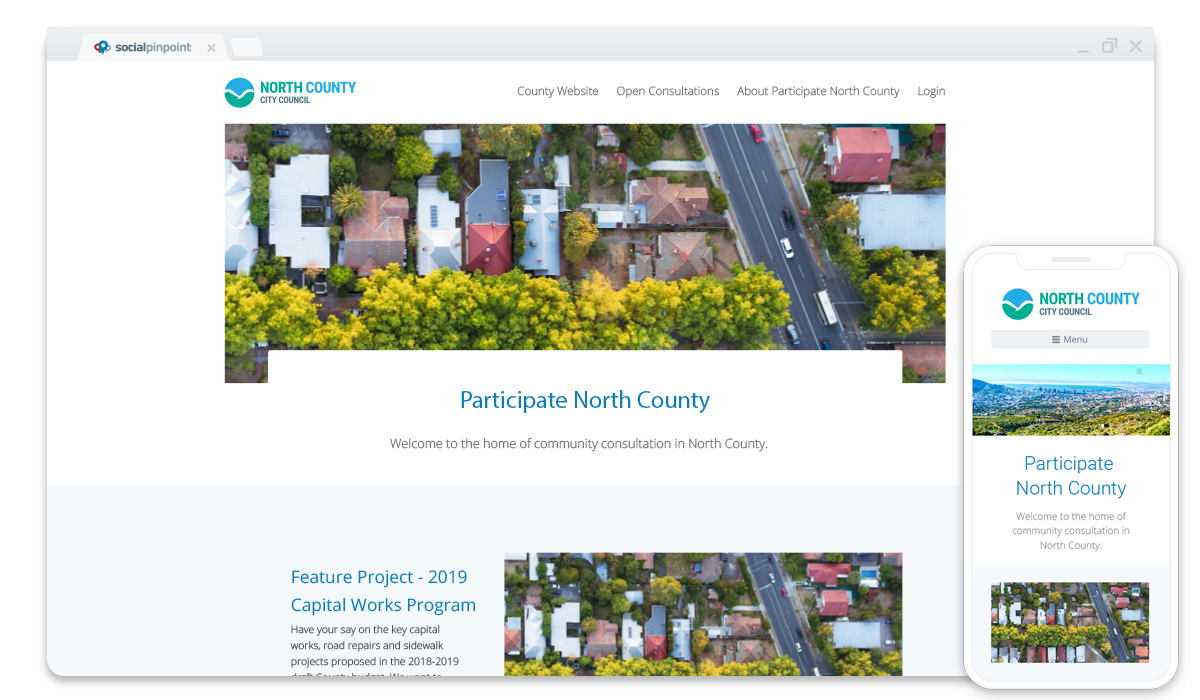 Project Page
Our drag-and-drop project page builder is a quick and easy way to build stand-alone websites for your engagement projects.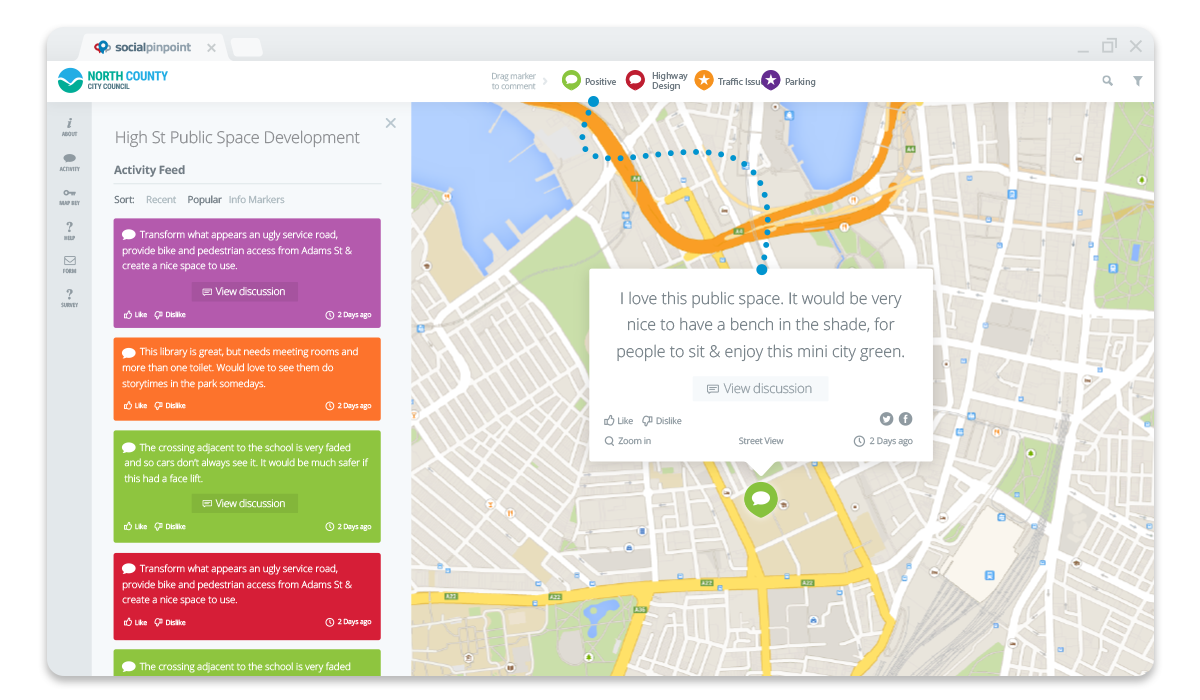 Interactive Mapping
Enhance your engagement data by letting your community show you exactly where their feedback, ideas and concerns are related.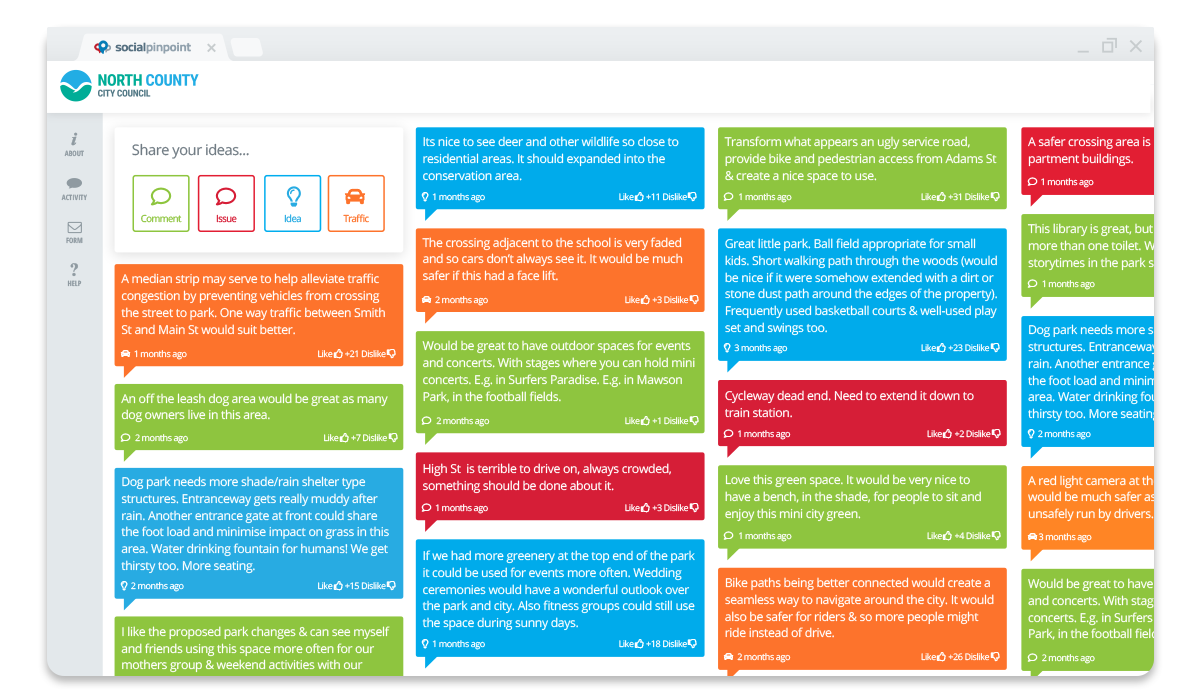 Ideation Tools
Think of a digital sticky-note meeting, our ideas wall is a great way to capture ideas & suggestions from the community visually.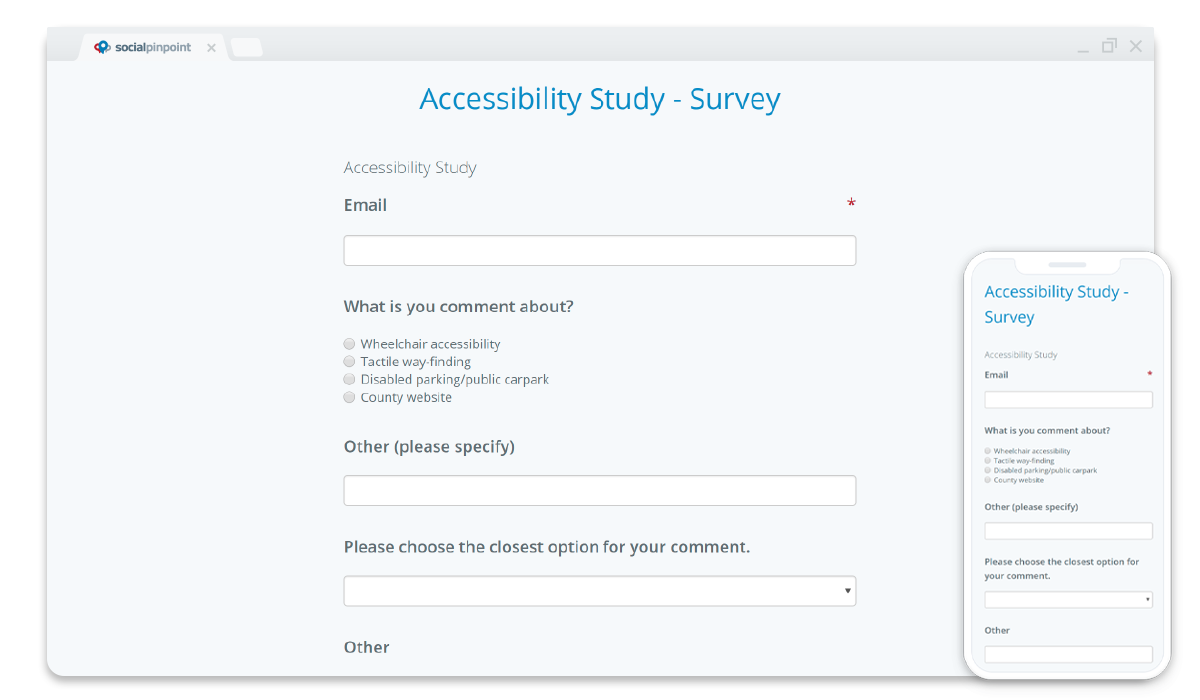 Surveys
Quickly obtain a large number of responses with a fully customizable survey and a range of question formats.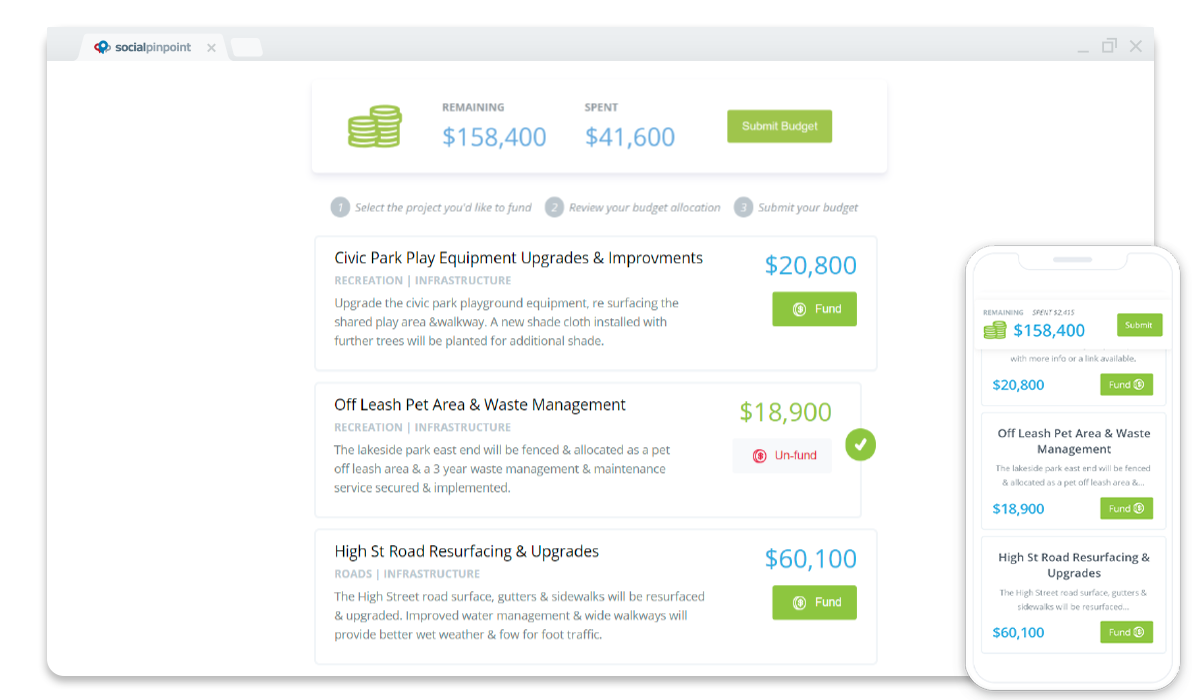 Participatory Budgeting
Our participatory budgeting tool lets your stakeholders suggest different ways to allocate your budget.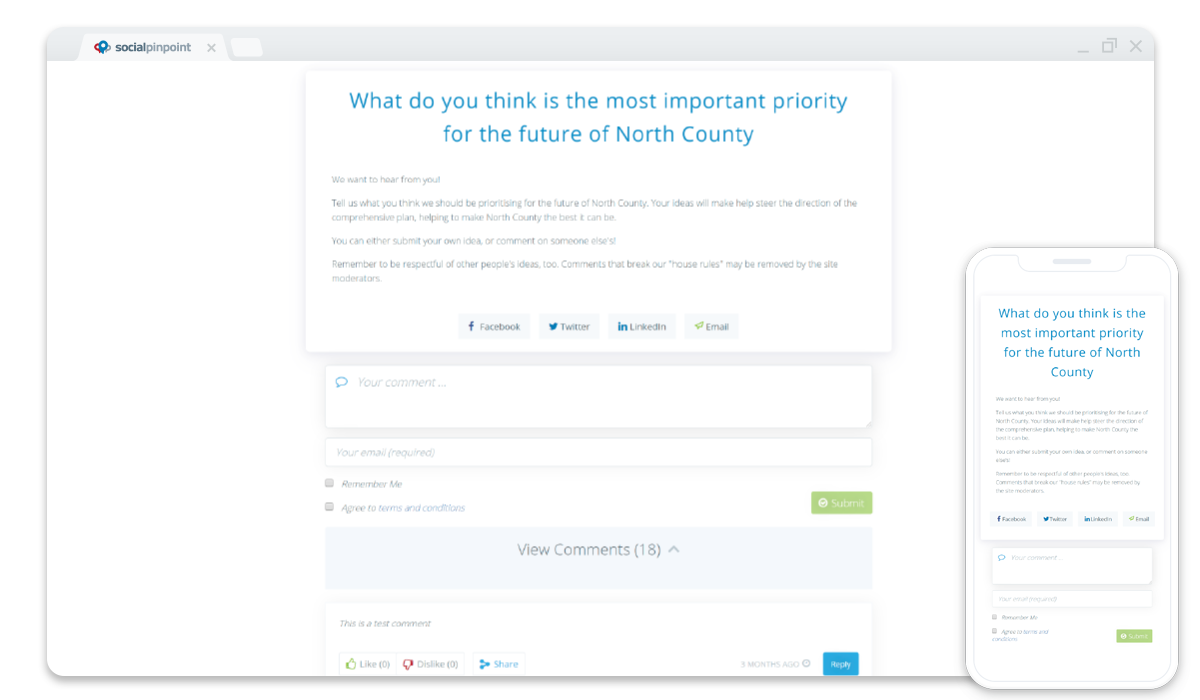 Forums
Engage your community with in-depth & collaborative discussions.
Get your free eBook
on Digital Engagement
Learn how to create dedicated engagement sites to drive greater project outcomes and increase public participation.
TRUSTED GLOBALLY
Globally, we have assisted Community Engagement Professionals and Planning Consultants to engage with over 2,000,000 participants on more than 5,000 projects.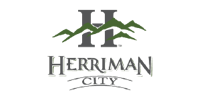 The Herriman City project received 842 unique users who spent an average of twelve minutes and forty-eight seconds engaging with the Social Pinpoint site. With a diverse array of comments and photos received, these results will be used to confirm needs, desires and trends in the community.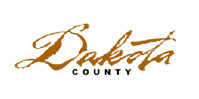 Through an interactive map, community open house and stakeholder meetings and community meetings, Dakota County and HKGi were able to gather really high-quality data and location-based feedback to help develop the preferred design for the masterplan that meets the needs of the community.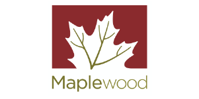 The City of Maplewood received over 200 comments and found that approximately 800 users spent an average of 18 minutes reviewing the site. Where community engagement is essential, interactive mapping is a very effective tool to encourage community members to engage.